| | |
| --- | --- |
| Press Release | |
| (Exclusively for the use of the media. Not an official document) |   |
The Hague, 12 March 2009
NJ/MOW/PR1307e

Tribunal Welcomes European Parliament's Support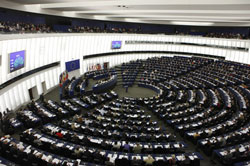 The European Parliament in Strasbourg, France
The Tribunal welcomes the support of the European Parliament for its work and the successful completion of its mandate in bringing to justice those persons most responsible for the most serious crimes committed during the Yugoslav wars.
The European Parliament earlier today in a plenary session adopted a report and recommendations to the Council urging support for successful completion of the Tribunal's mandate "so that all the ongoing trials can be examined without undue haste and the remaining indicted war criminal can be brought to justice".
The Tribunal appreciates the recognition of its significant contribution to the development of international justice, the process of reconciliation in the Western Balkans and its capacity building endeavors with regard to the rule of law in the region.
Since its establishment in 1993 the Tribunal has completed cases involving 116 of 161 accused. In the final phase of its mandate the Tribunal is working at full capacity to complete the remaining trials in line with the target deadlines established by its judges. Proceedings are ongoing against 40 accused in 20 cases with only five of those in pre-trial stage.
The Tribunal remains committed to the efficient completion of its work in line with the highest international standards and current target dates as transmitted to the UN Security Council in which all trial activity will be finished in 2010 with a view to complete appeals procedures by 2012.
The continued fugitive status of the two remaining indictees, Ratko Mladić and Goran Hadžić, hampers the Tribunal's ability to complete its work according to the current schedule, and also tarnishes the credibility of international justice. The Tribunal calls on all states to meet their obligations and ensure that the last two fugitives are arrested and transferred without further delay.


*****
Courtroom proceedings can be followed on the Tribunal's website at www.icty.org
*****
International Criminal Tribunal for the former Yugoslavia
For more information, please contact our Media Office in The Hague
Tel.: +31-70-512-5343; 512-5356 Fax: +31-70-512-5355 - Email: press [at] icty.org