| | |
| --- | --- |
| Press Advisory | |
| (Exclusively for the use of the media. Not an official document) |   |
The Hague, 23 June2011
VE/MOW/PA435e

Vojislav Šešelj Contempt of Court Initial Appearance on 6 July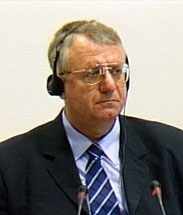 Vojislav Šešelj
The Initial Appearance in the third contempt of court case of Vojislav Šešelj has been scheduled to be held on Wednesday, 6 July 2011 at 15:00 in Courtroom II, before Judge Burton Hall.

Vojislav Šešelj, the leader of the Serb Radical Party currently standing trial at the Tribunal for alleged war crimes committed in Bosnia and Herzegovina, Croatia and Vojvodina in Serbia between 1991 and 1994, is accused of failing to remove confidential information from his personal website in violation of orders of a Chamber.

The confidential information published by Šešelj on his website include three books authored by the Accused and five confidential filings submitted by him as part of his main trial and two previous trials for contempt of court. These books and filings reveal confidential information about a number of protected witnesses who testified in his main trial before the Tribunal for alleged war crimes.

This is the third time that Šešelj has been charged with contempt of the Tribunal. The previous charges relate to two of the three books listed in the latest indictment. On 19 May 2010 the Appeals Chamber confirmed the Trial Chambers finding that Šešelj was guilty of contempt for disclosing the personal details of protected witnesses in a book he authored. Šešelj was ordered to remove the book from his website. On 4 February 2010 contempt proceedings were initiated against Šešelj for a second time for disclosing the personal details of protected witnesses in another book he authored. Proceedings are ongoing and on 31 January 2011 the Trial Chamber gave an order for the book to be removed from the Accused's website.

Separately, on 17 February 2011, the Trial Chamber ordered the Accused to remove a third book from his website, which contains confidential information relating to protected witnesses. The Accused has failed to comply with this and all previous Orders to remove the three books and confidential filings from the public domain.

The Tribunal regards the integrity of witnesses and confidential materials as essential elements in the rule of law. Several persons who have attempted to interfere with the judicial process by revealing confidential information have been prosecuted.
*****
The full text of the Trial Chamber's Decision on Failure to Remove Confidential Information from
Public Website and Order in Lieu of Indictment is available on the Tribunal's website at:
http://www.icty.org/x/cases/contempt_seselj3/ind/en/110524.pdf
*****
International Criminal Tribunal for the former Yugoslavia
For more information, please contact our Media Office in The Hague
Tel.: +31-70-512-8752; 512-5343; 512-5356 Fax: +31-70-512-5355 - Email: press [at] icty.org
Follow ICTY on Twitter and Youtube