The Hague, 19 January 2011

Website launches upgrades to Voice of the Victims and Statements of Guilt pages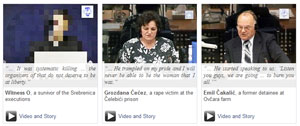 Voice of the Victims

Statements of Guilt
Earlier this year, the ICTY website launched upgraded versions of two of its major multimedia features: Voice of the Victims and Statements of Guilt. These improvements have been made as part of the mission of the website to promote a better understanding of the Tribunal's work.
Embedded videos now allow users to play video clips instantly, while the content of more than 40 pages was reviewed to permit easier reading.
The revised Voice of the Victims section allows website users to read about the personal experiences of some of the witnesses who have given evidence before the Tribunal and to view clips from their testimonies.
The Statements of Guilt section has been reviewed to provide easier access to statements and the related videos of those accused who plead guilty in their cases at the Tribunal.
The Tribunal's website is an important part of its legacy. By making its work more transparent, the website strengthens the accountability of the ICTY to its global audience and gives an insight into its judicial proceedings. 
* * *
Feedback on the ICTY website is welcome at webunit [at] icty.org

*****
International Criminal Tribunal for the former Yugoslavia
For more information, please contact our Media Office in The Hague
Tel.: +31-70-512-8752; 512-5343; 512-5356 Fax: +31-70-512-5355 - Email: press [at] icty.org
Follow ICTY on Twitter and Youtube