TRIBUNAL
PRESS RELEASE
(Exclusively for the use of the media. Not an official document)
The Hague, 21 October 2013
PR1584e
Winner of Outreach national essay-writing competition announced in Bosnia and Herzegovina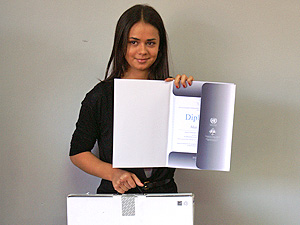 Maja Graca, winner of the Outreach national essay-writing
competition in BiH
Today the Tribunal's Outreach Programme awarded first prize in a national essay-writing competition to student Maja Graca at an awards ceremony at her school 'Meša Selimović' Gymnasium in Tuzla, Bosnia and Herzegovina.
Asking students in Bosnia and Herzegovina to share their thoughts on the topic 'Should we hold trials for war crimes committed during an armed conflict?', the competition was designed to encourage young people to voice their opinions about the work of the ICTY and its relevance to their communities. It forms part of the Tribunal's youth outreach initiative which aims to reach out to young people across the region and stimulate their interest in the Tribunal's mandate and wider issues of transitional justice and post-conflict reconstruction.
'This competition has been encouraging in the way it has shown that young people in Bosnia and Herzegovina have a strong interest in crimes committed during the conflicts of the 1990s and in ongoing efforts to achieve lasting peace, stability and reconciliation in their country. ICTY Outreach is privileged to have been able to provide a platform for these young voices to be heard' said Almir Alić, Outreach Liaison Officer in Sarajevo. 
A total of 135 young people from across the country entered the competition, held during the autumn of 2013. A Tribunal-wide jury chose the winners from a shortlist drawn up by Outreach field staff in Sarajevo. Second prize went to Viktor Nikolić from Mihajlo Pupin Technical School in Bijeljina and the third prize went to Sabina Poplata from 2nd Gymnasium in Sarajevo.
The winning essays won high praise from jury members. 'The essays demonstrate the maturity of the authors and carry a powerful message from the young people voicing their generation's longing for justice', said Magdalena Spalińska, ICTY spokesperson and member of the jury.
As the ICTY moves towards the completion of its mandate, the Outreach Programme is intensifying its efforts to ensure that young people across the region of the former Yugoslavia are able to access information about the Tribunal and its achievements. In doing so, the Outreach Programme seeks to foster a greater understanding of the Tribunal's work and legacy.
The Outreach Programme benefits from the continuous support of the European Union and its work with young people is generously supported by the Finnish government.