| | |
| --- | --- |
| Press Advisory | |
| (Exclusively for the use of the media. Not an official document) |   |
The Hague, 24 February 2010
NJ/MOW/PA393e
Zdravko Tolimir Trial to Begin on 26 February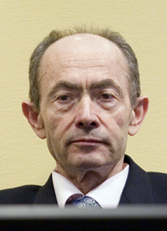 Zdravko Tolimir
The trial of Zdravko Tolimir, former high ranking official of the Bosnian Serb Army (VRS) is scheduled to begin on Friday, 26 February at 14:15 in Courtroom III. He is the last Accused in Tribunal custody to be put on trial.
The pre-trial conference is scheduled to take place on Thursday, 25 February at 14:15 in Courtroom III.
Tolimir is charged with genocide, conspiracy to commit genocide, crimes against humanity and violations of the laws or customs of war committed between July and November 1995 against Bosnian Muslims in Srebrenica and Žepa, eastern Bosnia and Herzegovina.
During the period relevant to the indictment, Tolimir was the Assistant Commander for Intelligence and Security of the Main Staff of the VRS. In this position, Zdravko Tolimir was one of seven Assistant Commanders who reported directly to the Commander of the Main Staff of the VRS, Ratko Mladić.
The indictment alleges that Tolimir committed genocide when more than 7,000 Muslim men and boys from Srebrenica were summarily executed.
He is charged with involvement in the murder of Bosnian Muslim prisoners temporarily held in various locations in the areas of Bratunac and Zvornik following the fall of the Srebrenica enclave. Among more than a dozen incidents of large-scale murder, the indictment alleges that Tolimir supervised the VRS detachment that summarily executed more than 1,700 Muslim men and boys at the Branjevo Military Farm and the Pilica Cultural Centre.
The Prosecution alleges that Tolimir was a member of criminal enterprises to murder able-bodied men and to forcibly remove the Muslim population from Srebrenica and Žepa.
Among other alleged members of these criminal enterprises were Vujadin Popović, Radivoje Miletić, Milan Gvero, Vinko Pandurević, Ljubiša Beara, Drago Nikolić and Ljubomir Borovčanin. All are currently on trial before the Tribunal, awaiting the Trial Chamber to render its judgement.
The initial indictment against Tolimir was confirmed on 10 February 2005 and made public on 25 February 2005. He was arrested on 31 May 2007 and transferred to into the custody of the Tribunal on 1 June 2007.
Since its inception 16 years ago, the Tribunal has indicted 161 persons for war crimes committed on the territory of the former Yugoslavia. The proceedings against 121 individuals have been completed.
Proceedings are currently open for 40 accused with 24 at trial stage, 7 awaiting trial judgement and 13 before the Appeals Chamber. Two accused, Ratko Mladić and Goran Hadžić, remain at large. Their arrest and transfer into the Tribunal's custody is vital to the successful completion of the Tribunal's mandate.
*****
International Criminal Tribunal for the former Yugoslavia
For more information, please contact our Media Office in The Hague
Tel.: +31-70-512-8752; 512-5343; 512-5356 Fax: +31-70-512-5355 - Email: press [at] icty.org