| | |
| --- | --- |
| Press Release | |
| (Exclusively for the use of the media. Not an official document) |   |
The Hague, 24 July 2009
NJ/MOW/1329e

Vojislav Šešelj Sentenced to 15 Months of Imprisonment for Contempt of Court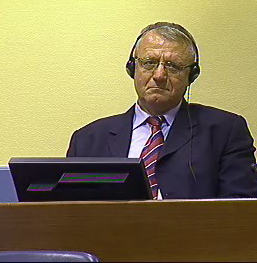 Vojislav Šešelj

Trial Chamber II today convicted Vojislav Šešelj of contempt of the Tribunal and sentenced him to 15 months' imprisonment for disclosing the name and other personal details of protected witnesses in a book he authored.
Šešelj, the leader of the Serbian Radical Party, is on trial before the Tribunal for alleged crimes committed in Bosnia and Herzegovina and Croatia between 1991 and 1994. 
On 21 January 2009 the chamber issued an order in lieu of indictment charging the accused with having knowingly and willfully interfered with the administration of justice by disclosing confidential information of three witnesses who had been granted protective measures in his war crimes trial.
Šešelj admitted he was the author of the book which was published after decisions granting protective measures were made but pleaded not guilty to charges of contempt at his initial appearance on 6 March. The trial took place on 29 May.
Trial Chamber II found that Šešelj disclosed confidential information "intentionally, with the knowledge that by doing so, he was violating Trial Chamber orders".
"The Chamber notes with grave concern the deliberate way in which the protective measure decisions imposed by the Šešelj Trial Chamber were defied," Judge O-Gon Kwon, presiding, said when rendering the judgement.
"The Chamber considers this a serious interference with the administration of justice, particularly given the potential adverse impact of such conduct upon witnesses' confidence in the Tribunal's ability to guarantee the effectiveness of protective measures," he continued.
"Furthermore, the Chamber recognises the need to discourage this type of behaviour, and to take such steps as it can to ensure that there is no repetition of such conduct on the part of the Accused or any other person," Judge Kwon concluded.
       
Šešelj was ordered to secure the withdrawal of the book from his internet site by 7 August.
       
The Tribunal regards the integrity of confidential materials as essential elements in the rule of law. Several persons who have attempted to interfere with the judicial process by revealing confidential information have been prosecuted.

*****
The full text of the summary of the Judgement can be found, in English, at:
http://www.icty.org/x/cases/contempt_seselj/tjug/en/090724_contempt_judgement_summary.pdf
Courtroom proceedings can be followed on the Tribunal's website at www.icty.org
*****
International Criminal Tribunal for the former Yugoslavia
For more information, please contact our Media Office in The Hague
Tel.: +31-70-512-5343; 512-5356 Fax: +31-70-512-5355 - Email: press [at] icty.org