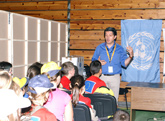 Sarajevo, 11 & 12 June 2012
The ninth edition of the Sarajevo Kid's festival offered a diverse programme for over 40,000 students from primary schools across Bosnia and Herzegovina (BiH).
Under the motto "All different, all equal", the festival combined dozens of workshops, booths, movies, performances, fun and education, aimed at boosting the confidence of the younger generation in BiH, building cross-entity networks, promoting mutual understanding among the different ethnic groups and creating trust in Bosnia's future in the European landscape.
On 11 and 12 June 2012, representatives of the ICTY Outreach Programme and the Tribunal's Office of the Prosecutor held a series of interactive presentations as part of the festival, involving more than 250 schoolchildren from Sarajevo, Fojnica, Ključ, East Sarajevo, Goražde, Prača, Doboj East, Ilijaš, Podlugovi, Srednje, Kreševo, Busovača, Orašje and Visoko. Despite the fact that they were born many years after the conflicts in the former Yugoslavia, the youngsters showed great interest in the work of the ICTY, with many stating that they were familiar with a number of the cases currently being conducted in the Tribunal's courtrooms.
The students were moved by the scenes of burned-out homes and weeping refugees, and made it clear in their discussions with the Outreach representatives that they recognised the importance of humanitarian law and the ICTY, in terms of punishing criminals and aiding reconciliation within post-conflict societies.
One eighth-grade student from Goražde asked: "What do young people need to do to ensure that such wars will never happen again?"
The answer was offered by the sounds of thousands of her peers from all across Bosnia and Herzegovina enjoying their day in the cultural melting pot, building new and hopefully lasting bridges of trust and friendship.