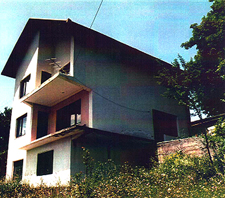 Women and girls were held and
subjected to rapes in Karaman's house,
outside the town of Foča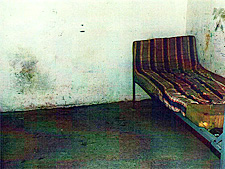 Isolation cell in the KP Dom detention facility.
Up to 18 detainees were kept in a single cell.
Foča
is a town and a municipality situated on the Drina river, near the border with Serbia and Montenegro. In April 1992, Serb forces occupied the town and surrounding areas populated by Bosnian Muslims. The take-over was followed by a widespread campaign of destruction, murder and terror against non-Serbs.
Dozens of Bosnian Muslim women and girls were separated from men, detained at various locations and raped. Some, including girls as young as 12 and 13, were enslaved for months in private houses where they were raped, frequently beaten and abused. Some were traded among Bosnian Serb soldiers and some murdered.
The Bosnian Muslim and other non-Serb men were unlawfully detained at the "KP Dom" prison facility where they were tortured, beaten and otherwise mistreated. Many were killed in the municipality, and more than 200 are still missing.
"

One 24 year old victim was raped by at least ten different soldiers, losing consciousness, and another 15 year old by at least three soldiers.

"

Peter Mitford-Burgess,
Investigator,
ICTY Office of the Prosecutor
The conference in Foča enabled the Tribunal to provide key audiences – victims' associations, municipal authorities, judicial officials and law enforcement agencies, as well as local politicians and civil society representatives – with a detailed and comprehensive picture of the Tribunal's activities in relation to allegations of serious violations of international humanitarian law occurring in the area during the 1992-1995 armed conflict.
Making extensive use of the enormous volume of evidence presented in the cases, representatives from the Tribunal were able to give an insight into the meticulous and painstaking investigations conducted by the Tribunal and to explain how allegations of torture, rape, enslavement, and outrages upon personal dignity were proven before the court.
In the "Foča" case, the three defendants – Dragoljub Kunarac, Radomir Kovač and Zoran Vuković – were found guilty of crimes against humanity and violations of the laws or customs of war and sentenced to 28, 20 and 12 years' imprisonment, respectively. Milorad Krnojelac was found guilty of crimes against humanity, torture, murder and violations of the laws or customs of war and sentenced to 15 years' imprisonment.
Reactions of the audience highlighted the need to persist with efforts to bring to justice perpetrators of all crimes, regardless of the nationality of the victims or the perpetrators. ICTY representatives reiterated the Tribunal's preparedness to continue to do all it can to assist domestic authorities in bringing further prosecutions.
The full report contains a summary of proceedings using the transcripts from the day, including opening remarks, presentations from Tribunal staff, photographs used as evidence in the cases and questions from the audience.