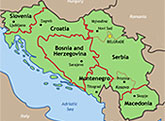 Podgorica, 25 January 2012
The Tribunal's Outreach Programme made a significant donation of international legal publications to Montenegro's Ministry of Justice, Supreme Prosecutor's office and Youth Initiative for Human Rights (YIHR) in Podgorica and the Montenegrin Central Library in Cetinje. The donation included copies of the ICTY's Judicial Reports, the Commonwealth Law Reports, the Encyclopaedia of Modern Legal Systems as well as a number of publications of the European Court of Human Rights. The donations form part of the Tribunal's commitment to promote respect for the rule of law and increase the access of students and legal practitioners in the region to educational resources in the field of international law.
This donation was organised by the ICTY's Outreach Programme.