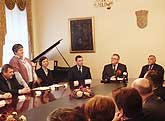 Požega, 20 February 2012
An audience of over 50 people, including former Croatian president Stjepan Mesić and the mayor of Požega Zdravko Ronko, today gathered to listen to Outreach representatives Christopher Fry and Klara Dokmanović talk about the work and achievements of ICTY over the past 19 years. The event was organised by the Pakrac-based NGO the Centre for Civil Society Support and Development 'Delfin'.
Former President Mesić also addressed the audience – which consisted of town officials, representatives of the judiciary and national minorities, NGOs and the media – speaking in support of the work of the ICTY and highlighting the Croatian legislation binding the state and its citizens to co-operate with the Tribunal.