Sarajevo, 27 October 2014
Students in the fourth year of the Second Gymnasium in Sarajevo participated in a two-hour presentation about the Tribunal's work delivered by their professor Aida Muftić.
Following the presentation, the Tribunal's legacy was the subject of the discussion, with students asking if the victims could be truly satisfied given the perceived lenient sentencing and unwillingness of politicians in the former Yugoslavia to accept the facts established before the Tribunal. One of the students also remarked that the accused in the Tribunal's Detention Union enjoy excellent conditions. However, after being introduced with the principle of presumption of innocence and the right of the accused to fair trial – the students recognised the key difference between a prison and a detention unit.
Commenting the presentation, student Elsin Uzunović pointed out: "The video footage used as an illustration in the presentation provided us with the first-hand insight into court proceedings. We got answers to many of our questions and learned many new things about this particular subject."
Other students also agreed that the prosecution of war criminals plays an important role in the process of facing the past. They also pointed out that young people, like themselves, should get better acquainted with this particular matter in order to take an active role in post-conflict recovery in the former Yugoslavia.
The presentation by Professor Muftić was the fourth in a series of presentations given by BiH high school professors who participated in the ICTY Outreach workshop. This workshop provides participants with more in-depth information about the Tribunal. This was the third visit of ICTY representative, Almir Alić, to the Sarajevo's Second Gymnasium. This time, Almir was in the capacity of an observer of a very good presentation by Professor Muftić, which was true refreshment precisely because of the mature reflections of her students.
Students' Feedback: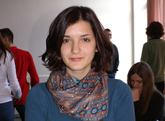 Sara Hodžić:
"I learned today that war crimes trials are extremely valuable for a number of reasons. Among others, the two main reasons relate to the past and the future. The past concerns the victims, their families and friends who should be provided redress and the need to stop denial. The future concerns us, young people, who must not generalise, but treat criminals as individuals who do not represent entire ethnic groups."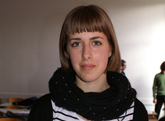 Nađa Zvizdić:
"Students who were born after the war are not so interests in all events, therefore such presentations are key to further understanding, continuation of life and facing the past. All in all, it was very useful and I hope there will be more presentations organised in future dealing with similar subjects."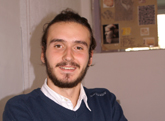 Dinno Lazzari:
"This was a very good and, above all, useful presentation, because it is important for the future generations of young people to be aware of the crimes that were committed, in order to prevent such monstrosities from happening again."