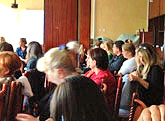 Vrnjačka Banja, 13 September 2013
Outreach Liaison Officer Morgiana Brading today travelled to the Serbian town of Vrnjačka Banja to speak at a meeting of women's organisations from across the Balkan region. The initiative was organised by the Women in Black NGO from Belgrade, and was attended by around 70 women from various groups.
Morgiana gave an introduction to the Tribunal's practice in regards to the legal doctrine of command responsibility, after which she led a discussion focusing mainly on recent judgements with command responsibility elements in Gotovina et al. and Perišić cases.
Many activists expressed their concern over what they perceived as major changes to the Tribunal's judicial practice in recent judgements, and wondered how the new practice may affect judgements still pending before ICTY benches.
Other participants applauded what they saw as positive recent developments, including the reinstatement of certain genocide charges against former Bosnian Serb leader Radovan Karadžić.
Miloš Urošević from Women in Black said: "Let us not forget how significant the Tribunal has been in the process of defining sexual violence as a war crime. And, also, let's try and imagine the region today if the Tribunal had never existed. Things would be very, very different. So despite recent criticisms, one mustn't forget all the good that has been done."