CHAMBERS
Press Release
(Exclusively for the use of the media. Not an official document)
The Hague, 16 December 2013
MS/PR1592e
Šešelj's proceedings to continue after Judge Niang familiarises himself with case record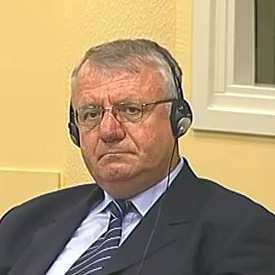 Vojislav Šešelj
The Trial Chamber on Friday issued a decision on the continuation of the proceedings in the case of Vojislav Šešelj, following the disqualification of Judge Frederik Harhoff and appointment of Judge Mandiaye Niang to the Bench.
The Chamber unanimously ordered that the proceedings would resume from the point after the closing arguments, and move into the deliberations phase as soon as Judge Niang has familiarized himself with the file. The Trial Chamber will issue a decision once this has been completed.
The Chamber agreed that a new judge is able to assess witness testimony given in his absence through other means, including video recordings. Consequently, the Chamber concluded that Judge Niang will be thus able to evaluate the credibility of witnesses heard during the proceedings in the Šešelj case, and familiarise himself with the record of the proceedings to a satisfactory degree.
Judges Antonetti and Niang appended concurrent individual opinions to the Trial Chamber's decision.
Friday's decision comes after the Chamber's invitation of 13 November to the parties to present their observations on the continuation of the proceedings. In his submission, Vojislav Šešelj claimed that following the disqualification of Judge Harhoff the proceedings in his case could no longer continue, he should be urgently released, and receive financial compensation. The Prosecution argued that that the trial should continue at the deliberation stage, after Judge Niang familiarises himself with the existing case record. The Prosecution claimed that such a solution would not be unprecedented in the Tribunal's practice, pointing to the trial of Slobodan Milosevic where Judge Bonomy replaced Judge May.
Vojislav Šešelj had filed a motion of 9 July 2013 seeking the disqualification of Judge Harhoff from the Bench, on the basis of a letter that the Judge wrote dated 6 June. On 28 August a specially appointed Chamber disqualified Judge Harhoff from the Šešelj case having found by majority, Judge Liu dissenting, that the Judge had demonstrated an unacceptable appearance of bias in favour of conviction. On 7 October the Chamber rejected by majority, Judge Liu dissenting, the request for reconsideration of this decision filed by the Prosecutor.
On 31 October Acting President of the Tribunal nominated Judge Niang to replace Judge Harhoff on the Šešelj Bench.