TRIBUNAL
PRESS RELEASE
(Exclusively for the use of the media. Not an official document)
The Hague, 18 November 2013
CS/PR1588e
ICTY to hold two-day conference in Sarajevo to mark Twentieth Anniversary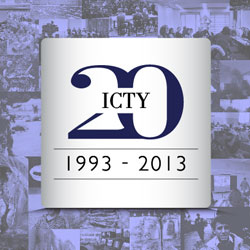 As part of the events held during 2013 to mark the Tribunal's twentieth anniversary, the ICTY is convening a two-day conference on 26-27 November 2013 in Sarajevo to consider aspects of the Tribunal's legacy in the former Yugoslavia.
Commenting on the conference, ICTY President Theodor Meron stated: "The goal of the conference is to facilitate discussion with members of the communities of the former Yugoslavia about the Tribunal's successes, the challenges it has faced, and how the Tribunal can make its legacy more accessible locally."
The conference will comprise one day of working level meetings on 26 November followed by a series of public events and discussions on 27 November. In this way, the conference will provide an opportunity for local stakeholders to engage in direct and constructive dialogue about a variety of topics, including: the ICTY's overall accomplishments and the challenges it has encountered; its contribution to the promotion of the rule of law in the region; the mechanisms of victim and witness protection in war crimes trials; and the future accessibility of the ICTY documents and materials to the people of the former Yugoslavia. 
In addition to Tribunal representatives, participants will include officials from national judiciaries, experts on transitional justice issues, victims, lawyers, journalists, politicians, representatives of NGOs, academics, and other stakeholders from the former Yugoslavia. The conference will include panels for debate and analysis, as well as working level meetings which will identify issues for discussion during the second day of the conference.
Speaking of the value of the conference for the communities of the former Yugoslavia, Meddžida Kreso, President of the BiH Court said: "I am glad to be taking part in this conference marking the 20th anniversary of the work of the ICTY, given the importance for both regional and international courts of the Tribunal's contribution to the development of jurisprudence of war crimes cases. One cannot underestimate the contribution it has made in the field of transitional justice in the region. It is our duty to continue the best practices of the Tribunal and I look forward to the conference discussions on how best to achieve this".
The conference has been organised by the ICTY Outreach Programme and has been made possible through the generous support of the European Union, the Governments of Switzerland, Luxembourg, the Netherlands, the Republic of Korea and the Open Society Justice Initiative.
Web Page of the 20th Anniversary Sarajevo Conference
---
The second day of the conference, 27 November 2013, will be open to the press. Further details will be sent in a separate Press Advisory.
For further information please contact Helena Eggleston, at egglestonh [at] un.org, +31 (0)70 512 5691.