| | |
| --- | --- |
| Press Release | |
| (Exclusively for the use of the media. Not an official document) |   |
The Hague, 1 September 2010
VE/MOW/1360e


ICTY Registrar Visits the ICTR and Rwanda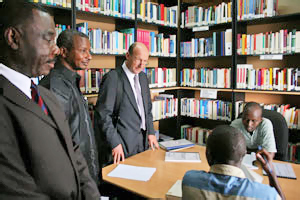 ICTY Registrar John Hocking during a visit to one of the Rwanda Tribunal Information Centres in Kigali, Rwanda.
The Registrar of the Tribunal, John Hocking, is on a working visit to the International Criminal Tribunal for Rwanda (ICTR), in Tanzania and to Rwanda this week.
In his first visit to the ICTY's sister Tribunal since his appointment as the Registrar, Mr Hocking met with his counterpart, Mr Adama Dieng in Arusha, Tanzania. The two Registrars discussed issues of common importance to the ad hoc Tribunals including cooperation, the completion strategy and the downsizing process as well as the Tribunals' engagement with local communities.
In the second-leg of his mission, the Registrar will pay a visit to Rwanda where he will meet with the Minister of Justice and judges of the Supreme and Higher Courts as well as with relevant nongovernmental and victims' organizations.
He will also visit the ICTR and national information centres as well as the Kigali and Murambi Genocide Memorials in order to share ideas and experience on how to preserve the work of the Tribunals, the record of facts established during the course of trials and the memory of the conflicts in regions.
The visit will aid the Tribunal's continued efforts to secure the legacy and recognition of its achievements in the former Yugoslavia and globally.
Since his appointment in 2009, the Registrar has made it his priority to ensure that once it closes down, the Tribunal continues having a long-lasting impact across the former Yugoslavia.
*****
International Criminal Tribunal for the former Yugoslavia
For more information, please contact our Media Office in The Hague
Tel.: +31-70-512-8752; 512-5343; 512-5356 Fax: +31-70-512-5355 - Email: press [at] icty.org