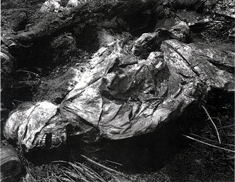 Body recovered from exhumation site clearly showing blindfold and arms tied behind the back
Srebrenica
is a town in eastern Bosnia, which during most of the 1992-95 conflict was an enclave under the control of Bosnian Army, housing thousands of Bosnian Muslims from surrounding areas. Over a period of years, Bosnian Serbs besieged the enclave, frequently shelling it, while Bosnian forces operating from the enclave attacked surrounding Serb villages.
The Tribunal found that between June 1992 and March 1993, a number of Serbs were captured by Bosnian Muslim forces and confined at the Srebrenica Police Station and at the building behind the Municipal building. They were subjected to cruel treatment and, in some instances, were beaten to death or killed.
Srebrenica was declared a "safe area" in 1993, a de-militarised zone under the protection of UNPROFOR. In July 1995 Srebrenica was overrun by Serb forces. In the days following the take-over, members of the Bosnian Serb Army and police implemented a plan to kill more than 7.000 men and boys and expel the women and children from the enclave. The Tribunal found that the mass executions of Bosnian Muslim men and boys from Srebrenica constituted genocide.
"

The prosecution proved that genocide was committed in Srebrenica and that General Radislav Krstić, among others, was personally responsible for that.

"

Olga Kavran, Deputy Coordinator,
ICTY Outreach Programme
The conference in Srebrenica enabled the Tribunal to provide key audiences – victims' associations, municipal authorities, judicial officials and law enforcement agencies, as well as local politicians and civil society representatives – with a detailed and comprehensive picture of the Tribunal's activities in relation to allegations of serious violations of international humanitarian law occurring in the area during the 1992-1995 armed conflict.
Making extensive use of the enormous volume of evidence presented in the cases, representatives from the Tribunal were able to give an insight into the meticulous and painstaking investigations conducted by the Tribunal and explain how allegations of aiding and abetting genocide, murder, extermination and persecutions were proven before the court.
Radislav Krstić was found guilty of aiding and abetting genocide, violations of the laws or customs of war and crimes against humanity and sentenced to 35 years imprisonment. Dražen Erdemović pleaded guilty to violations of the laws or customs of war and Dragan Obrenović pleaded guilty to crimes against humanity and they were sentenced to five and 17 years imprisonment respectively.
Reactions of the audience highlighted the need to persist with efforts to bring to justice perpetrators of all crimes, regardless of the nationality of the victims or the perpetrators. ICTY representatives reiterated the Tribunal's preparedness to continue to do all it can to assist domestic authorities in bringing further prosecutions.
The full report contains a summary of proceedings using the transcripts from the day, including opening remarks, presentations from Tribunal staff, photographs used as evidence in the cases and questions from the audience.