A review by the Department of Peacekeeping Operations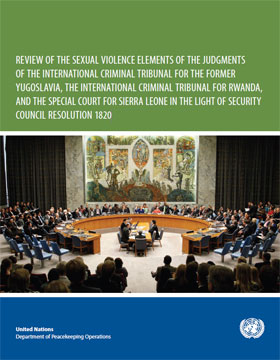 The goal of this report, published on 9 March 2009, is "to identify the sexual violence elements of the jurisprudence of the International Criminal Tribunal for the former Yugoslavia (ICTY), the International Criminal Tribunal for Rwanda (ICTR), and the Special Court for Sierra Leone (SCSL).
It offers a comprehensive overview of the various ways that sexual violence in armed conflict can be interpreted and addressed under international law. It further provides easy reference to the conclusions that the ICTY, ICTR and SCSL reached with regard to sexual violence in armed conflict.
It was prepared in light of Security Council Resolution 1820 (SCR 1820) which requests, inter alia, information on situations of armed conflict in which sexual violence has been widely or systematically employed against civilians, and analysis of the prevalence and trends of sexual violence in situations of armed conflict."
 
Disclaimer: the views expressed in this publication do not necessarily reflect the views of the ICTY.