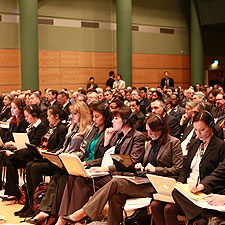 From 2010 onwards, with attention paid to the legacy of the ICTY steadily rising, a series of conferences were convened to stimulate stakeholder discussions on the Tribunal's impact in the former Yugoslavia and on the global scene.
The events took place in The Hague in 2010 and 2011, in Zagreb in 2012, and in Sarajevo in 2012 and 2013.  
Hundreds of participants from the former Yugoslavia and around the globe engaged in dialogue on a wide range of topics, from the Tribunal's contribution to international law and its impact on the citizens of the former Yugoslavia, to the keeping of archives and records and the Tribunal's role in the process of transitional justice in the Balkans.
Conference transcripts and videos were made available online to ensure worldwide accessibility to the opinion-packed debates held during these events.
The conferences were organised by the Tribunal's Outreach Programme with support from the ICTY President's Office. They were made possible by generous donations from the EU, the Governments of the Netherlands, Switzerland, Luxembourg and the Republic of Korea, the Municipality of The Hague, the Open Society Justice Initiative and the Sanela Diana Jenkins Human Rights Project at UCLA School of Law.