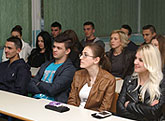 19 March 2014, Goražde
Outreach representative Almir Alić today travelled to the town of Goražde in the south-east of Bosnia and Herzegovina (BiH) to meet with students from the Enver Pozderović high school there.
From 1992 to 1995, Goražde was one the enclaves, along with Srebrenica and Žepa, surrounded and besieged by the Bosnian Serb Army, and suffered terrible destruction during that time.
The consequences of war can felt in the students reflections about the possibility of reconciliation. One 18-year-old girl spoke for many of her classmates when she said: "The still present divisions lead to too much mistrust."
However, all the students agreed that war crimes trials are indispensable to the process of facing the past, and that the role of the Tribunal and its contribution to this process have been vital. During the two-hour workshop led by Almir, the students were given the opportunity to familiarise themselves with the basic concepts of international humanitarian law and the Tribunal's role in bringing to justice those who violated it in the former Yugoslavia.
"The Tribunal has had a positive role in as much as it was the first to punish the crimes that no one had punished before," said one of the students.
The importance of engaging in such communication with young people in BiH was best articulated by one student who said: "The presentation was valuable because it has opened our eyes to the situation during the war and afterwards."