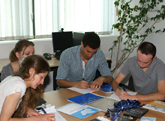 Sarajevo, 5 June 2014
A group of seven students with the University of Louisville, USA, today visited the ICTY Field Office in Sarajevo as a part of their study visit to international and national institutions and organisations involved in the post-conflict recovery of the Bosnian society. Students of Political Science and Psychology were particularly interested in reconciliation, as an essential element of the process. In that respect, they were keen to learn more about the impact of war crimes trials on relations among local communities.
During the two hour presentation, Almir Alić, ICTY Registry Liaison Officer in BiH, introduced the students to the work of the Tribunal and its Outreach programme.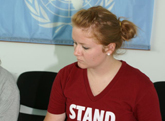 Carli Mosby, Age 21, University of Louisville, USA
"I was unaware, prior to the presentation, about all the intricacies of the ICTY. The short clips of actual criminal cases were a great way to see the different aspects of the trials and the ICTY in general."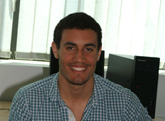 Daniel Dieudonne, Age 22, University of Louisville, USA
"The efforts of the ICTY and outreach are a crucial component to post- conflict development in the former Yugoslavia. They are trying to bridg the gap between judicial justice and justice for the victims, a necessary and challenging task for the region."