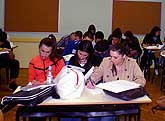 Mostar, 22 March 2012
Almir Alić from the Outreach office in Bosnia and Herzegovina today gave a presentation on the Tribunal's work and achievements to a group of 32 students at the Fra Grge Martića high school in Mostar.
Mostar was the scene of heavy fighting involving all sides in the Bosnian conflict. On 9 November 1993, in perhaps the most famous piece of cultural destruction in the war, the world famous 'Old Bridge' crossing the Neretva river was destroyed.
The two-hour multi-media presentation was followed by a very lively discussion on a number of issues related to ICTY's mandate and procedures, including its sentencing policy, witness protection measures and the Tribunal's completion strategy. The students were also interested in learning more about the appointment of ICTY judges and the rendering of judgements.
The majority of students agreed that all those who committed crimes should be held responsible regardless of their ethnicity and that the Tribunal has made a positive contribution to the punishment of crimes committed in the former Yugoslavia.
The feedback received was very positive and the school management expressed interest in organising similar presentations in their school in the future.