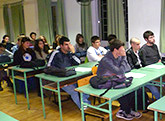 5 March 2013, Zadar

Klara Dokmanović of the Tribunal's Outreach Programme today visited the Franje Petrića high school in Zadar, a historic centre of the northern Dalmatian region that was shelled on a number of occasions by the Serb-dominated Yugoslav People's Army during the war. 
A number of nearby towns and villages were also attacked, with perhaps the most brutal incident being the Škabrnja massacre in which 86 people were killed - a crime that formed part of four indictments raised by the ICTY.
The students asked numerous questions during and after the presentation. Topics of interest to them included the criteria that had been used when it was decided to transfer a number of ICTY cases back to local judiciaries.
The high school principal expressed her appreciation for the presentation and invited the Outreach Programme to return to the school for similar events in the future.