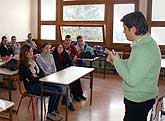 Bosanski Šamac, 23 February 2012
Almir Alić from the Outreach office in Bosnia and Herzegovina (BiH) today gave a presentation on the Tribunal's work and achievements to a group of 20 fourth-grade students at the 'Nikola Tesla' high school in Bosanski Šamac.
Bosanski Šamac is a town and a municipality in northern BiH, in a strategic position on the Sava river. The municipality was captured on 17 April 1992, in the aftermath of which the Serb authorities embarked upon a campaign of terror against Bosnian Croat and Muslim residents. Many non-Serb civilians were arrested and detained in camps, where prisoners were killed, beaten, tortured, sexually assaulted and humiliated in front of others, and otherwise mistreated by paramilitary soldiers.
The two-hour multi-media presentation saw active participation from the students, who were keen to learn more about the Tribunal's mandate and its rules and procedures, including issues related to sentencing, the prosecution of sexual crimes and the transfer of cases to local judiciaries.
At the conclusion of the event, students were provided with specially-prepared ICTY information materials, and encouraged to check out the Tribunal's website and social media sites.