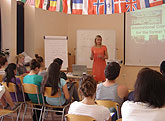 Mostar, 22 June 2012
Nerma Jelačić, head of the ICTY Outreach programme, travelled to Mostar today to talk to a group of more than 30 high school students attending the International Summer School on Peace and Conflict Resolution. Organised by United World Colleges (UWC) in Mostar, the Summer School brings together students from Bosnian and Herzegovina's different ethnic groups and from across the world, in a city that remains a striking example of post-war ethnic division and tension.
The two-hour presentation concentrated on the ICTY's major achievements and its important role in transitional justice in the region of the former Yugoslavia. Questions from the young audience covered topics such as the efficiency of ICTY proceedings and the 'completion strategy' for winding up the Tribunal's work.
Following the presentation, summer school coordinator Annukka Kurki expressed her gratitude to Nerma and stated her belief in the importance of such events. She suggested that placing before the students the rich array of the ICTY's achievements would contribute greatly to deepening their understanding of the concepts and issues surrounding peace and conflict resolution.
UWC in Mostar is one of 13 schools and colleges in the global United World Colleges family and the first with the explicit aim of contributing to the reconstruction of a post-conflict society. The college is implementing an innovative model of post-conflict education, constituting a milestone for broader educational reform in the country and the region at large.