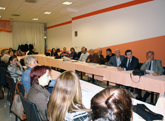 Tuzla, 29 November 2012
Almir Alić from the Tribunal's office in Bosnia and Herzegovina (BiH) today spoke about the ICTY's role in transitional justice processes at the Coping with the Past: The Case of Germany  workshop organised by the Bosnian NGO Prijateljice.
Representatives from victims' associations, NGOs, the judiciary and the political arena attended Almir's presentation on the contributions made by the ICTY to transitional justice in the region of the former Yugoslavia.
As soon as the first slide in the presentation was displayed, the questions and comments from the audience began. Almir was pleased to be able to engage directly with members of his audience, and offered them detailed information about the Tribunal's trials and its place in the wider context of transitional justice.
After the conclusion of the event, Lejla Redžepagić, Project Coordinator for Prijateljice, thanked Almir, saying that he had "contributed to a better understanding of the role of the Tribunal in the process of dealing with the past in Bosnia and Herzegovina". She also expressed her belief that such presentations, and a wider dialogue about war crimes in general, were "very much needed in many communities across BiH".