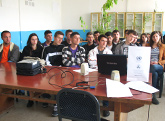 Drenas/Glogovac, 24 April 2012
24 students from the Gjergj Kastrioti Skenderbeu high school in Drenas/Glogovac, central Kosovo, today welcomed the opportunity to learn about the work and achievements of the ICTY.
Following the presentation given by Outreach representative Shkelzen Dhomi, the students wanted to hear about the cases adjudicated by the ICTY relating to Kosovo, and in particular about that of former Kosovo Liberation Army (KLA) members Ramush Haradinaj, Idriz Balaj and Lahi Brahimaj, currently being re-tried at the Tribunal. Shkelzen laid out for his young audience the reasons the Appeals Chamber had felt compelled to take the step of ordering another trial be held on certain counts in the indictment against the three men.
Once time constraints meant the event had to be reluctantly wrapped up, the students were provided with various handouts and encouraged to consult the Tribunal's website and social media pages. One student said he would "love the chance to attend similar presentations in the future" – a sentiment echoed by many of those present.