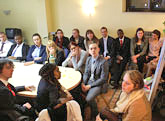 Belgrade, 4 April 2013
Over 30 law students from the University of Amsterdam visited the Tribunal's Belgrade Field Office today. Outreach representative Morgiana Brading presented the work of the ICTY, which was followed by a discussion focusing on perceptions of the Tribunal in Serbia and how that affects the day to day work of Outreach staff in Belgrade.
Some of the students said that following the arrest of Radovan Karadžić they had been shocked to learn that he had lived and worked in Belgrade for years prior to his capture. They wondered how that was possible and also how certain indictees had spent so many years on the run.
Morgiana explained that many of those accused by the Tribunal were high-ranking army officers or politicians and had wide support networks in the region, and, following the withdrawal of international forces from the area, the Tribunal had had to rely on the support of the local authorities when it came to making arrests.
The students were also surprised by the Serbian government's decision to downscale its cooperation with the Tribunal after the appeals judgement in the case of Ante Gotovina and Mladen Markač was issued.
At the end of their visit, the students expressed satisfaction at being able to visit the Belgrade field office and thanked the staff there for hosting them.