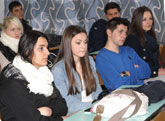 Sanski Most, 22 March 2013
High school students from the Sanski Most Gymnasium today once again played host to Almir Alić, the Tribunal's Outreach representative in Bosnia and Herzegovina. Although Almir had already visited the school in February this year, the students has asked for a repeat performance as they wanted to hear more and had so many questions still to ask.
Their mature reflections on the recent history of their region vividly illustrated how these young people are living with the consequences of a conflict that took place before most of them were even born.
Asked whether they believed post-war reconciliation was possible, one student replied by saying it could be achieved "by raising awareness of individual responsibility and putting an end to the practice of labelling entire ethnic groups for crimes committed by individuals".
The students were once more extremely enthusiastic about the presentation, and suggested it should be shown to as many young people as possible.