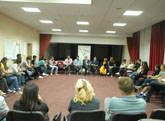 Belgrade, 29 September 2014
ICTY's Outreach Programme recently started its cooperation with the NGOs "Open Communication" from Belgrade, "Hermes" from Zagreb and "Humanity in Action" from Sarajevo, in the project called Model International Criminal Court – Western Balkans (MICC Web) which is jointly implemented by these three NGOs. This cooperation was initiated a few months ago, when Outreach provided the organisers with large quantities of different materials which present the work and the achievements of the ICTY in an understandable and attractive way.
As part of this project, tonight in Belgrade "the evening of contemporary witnesses" took place, and the speaker was Professor Doctor Bakir Nakaš who testified in ICTYs trials six times. His engagement in the project was organised by the Outreach Programme in cooperation with the Tribunal's Victims and Witnesses Section. High school students from Serbia, Croatia and BiH who gathered in Belgrade to take part in the moot court exercise simulating the work of international criminal tribunals heard Bakir Nakaš who spoke about his experiences in the war in BiH and testifying before the ICTY. In order to take part in this moot court exercise Doctor Nakaš travelled from Sarajevo to Belgrade for the first time since 1987.
During the two hour conversation Doctor Nakaš answered numerous questions posed by the participants in the project – ranging from those in relation to the war crimes' trials to personal questions related to staying in Sarajevo during the war. In an interview he gave after the session to the Press team of the Belgrade MICC Web, Doctor Nakaš pointed out that for him it was an honour and a pleasure to testify before the Tribunal for all those who did not have the opportunity to testify, and to speak in front of those in charge of delivering judgements about what was happening in Sarajevo during the war.
MICC Web project is funded by the Foundation "Schuler Helfen Leben" from Berlin, and more information about the project is available at the website: http://www.miccweb.org/. ICTY's Outreach Programme will continue to support activities implemented within this project so as to increase the awareness and understanding about the work of the Tribunal and transitional justice processes among the young people in the former Yugoslavia.