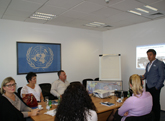 Sarajevo, 9 October 2014
A workshop for a group of five high school teachers from Sarajevo Canton was held today as part of an Outreach youth project. The teachers were trained to give presentations independently on the work and legacy of the ICTY. The teachers will go on to hold presentations in their respective schools as part of their regular curriculum. During the one-day workshop, ICTY Registry Liaison Officer in BiH, Almir Alić introduced the teachers to the work of the Tribunal in detail, and the participants also had the chance to try independently the methodology of delivering presentations during the practical part of the workshop.
The high school teachers pointed out that it is very important to speak about this topic with high school students. They added that the presentations would definitely contribute to encouraging these young people, who were not even born at the time of the armed conflict in the former Yugoslavia, and are today experiencing the numerous negative consequences of these conflicts, as part of the process of facing the past.
For the last three years, the ICTY's Outreach Programme has been implementing this project aimed at bringing the work of the Tribunal closer to university and high school students throughout the former Yugoslavia. The aim of the project is to contribute to peace building efforts through stimulating interest among young people in issues of justice, transitional justice mechanisms, post-conflict recovery and the work of the ICTY. So far, in BiH, more than 45 schools from both entities and Brčko District have benefited from the project, comprising over 1,500 students, whilst more than 7,000 students in the whole region have been reached by the project.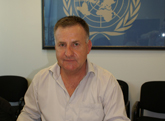 Islam Zulović, Fifth Gymnasium Sarajevo:
'Today's workshop was very informative and useful? for me as a future educator on this subject. The combination of newly acquired knowledge and my previous experience in the field of humanitarian law renders me fit to communicate and explain to my students the most important aspects of Tribunal's work'.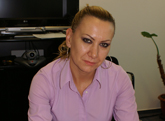 Arijana Ahić, First Gymnasium Sarajevo:
'It is extremely important to inform young people born after 1995 about the 1992-1995 events in BiH that had their epilogue in the ICTY's courtrooms. The Tribunal is very important for BiH and this workshop has broadened my knowledge about the work of this international institution'.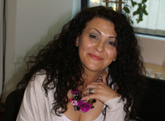 Aida Muftić, Second Gymnasium Sarajevo:
'The workshop was very important in the context of sharing information about the ICTY. The presentation highlighted the issues of violation of human rights and sanctioning of crimes. It would be useful to share this information with wider audiences".