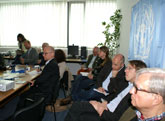 Sarajevo, 1 May 2014
A group of 15 journalists from the Berliner Press Club, one of Germany's largest journalistic associations, today visited the ICTY Filed Office in Sarajevo as part of a regional tour of Bosnia and Herzegovina (BiH) and Serbia. The representatives of German print and electronic media were keen to learn more about political and cultural contexts in which the ICTY office in BiH operates.
Guenter Schweiger, a representative of the Tribunal's Office of the Prosecutor, gave a general overview of ICTY's work in BiH, highlighting activities related to investigations of war crimes, while Registry representative Almir Alić briefed the group on Outreach's work engaging local communities in the country.
The journalists were interested in drawing parallels between German society in the aftermath of the Nuremberg trials and the communities in the former Yugoslavia, and the ways in which the two groups have gone about the process of facing the past. They were also keen to learn about the true level of cooperation between BiH state institutions and the Tribunal, and how the public denial of war crimes by some politicians impacts on the victims of such crimes.
The visitors found Outreach's experiences in working with young people particularly interesting, agreeing that this particular segment of the Bosnian population has the greatest potential in terms of active participation in facing the past. Almir shared with the journalists the encouraging reactions from some of the BiH high school students who have benefited from Outreach's youth education project. He explained how many of the young people had shown a willingness to accept the facts about crimes committed by members of their own ethnic groups, as well as a heartening faith in the possibility of reconciliation among communities.