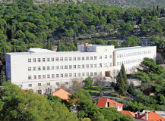 Šibenik, 4 March 2013

Students of the Antuna Vrančića Gymnasium - the largest high school in the historic Croatian town of Šibenik – today met with Outreach representative Klara Dokmanović to learn about the ICTY's work and achievements.
The 24 final year students and two teachers who attended the presentation listened attentively to Klara and had a large number of questions for her. They were interested to hear about the Tribunal's completion strategy and its support for local war crimes prosecutions. A number of them said that they found ICTY sentences to be too lenient in light of the crimes for which people were being convicted, and they were interested to learn that persons found guilty by the Tribunal serve their prison terms in one of the 17 countries with which the ICTY has concluded agreements on the enforcement of sentences rather than in the Tribunal's Detention Unit.
After the conclusion of the event, one student told Klara: "The presentation was very good, we were provided with lots of information about the Tribunal … that we have never heard from the media."
One of the teachers suggested that similar presentations would even be useful for the teaching staff, and the other expressed her regret that many more students had not had the opportunity to attend such events over the years.