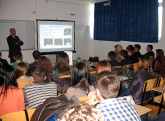 Lipjan/Lipljan, 28 March 2012
Shkelzen Dhomi from the ICTY Outreach programme in Kosovo today gave a presentation on the work and achievements of the Tribunal at a high school in the central Kosovar city of Lipjan/Lipljan. The 41 fourth-year students were keen to engage with Shkelzen, and the topics discussed included sentencing practices, judges, and the structure of the Tribunal. The presentation also included information on various ICTY trials, the 'voices of the victims,' the fight against impunity and the global spread of international criminal justice.
Unsurprisingly, the students were also eager to hear about the re-trial of Kosovo Liberation Army (KLA) members Ramush Haradinaj, Idriz Balaj and Lahi Brahimaj, and Shkelzen explained the Appeal Chamber's reasons for ordering a partial retrial.
A majority of the students praised the presentation, saying they considered it both important and informative. Many said they were enthusiastic to learn more and announced their intention to continue to follow the work of Tribunal in an effort to broaden their knowledge and understanding about the role of ICTY in their region.