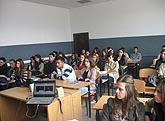 Ferizaj/Uroševac, 03 April 2012
Shkelzen Dhomi from the ICTY Outreach office in Kosovo today travelled to southern town of Ferizaj/Uroševac to talk to a group of nearly forty students from the local high school about the work and achievements of the Tribunal.
Following the multi-media presentation, Shkelzen answered the students' questions on, among other things, witness participation in ICTY trials, and the protection of vulnerable witnesses. The students also had questions about the re-trial of KLA members Ramush Haradinaj, Idriz Balaj and Lahi Brahimaj, and Shkelzen explained the Appeal Chamber's reasons for ordering a new trial.
Once time was up, the students expressed their gratitude for the event, with one saying it was an "excellent presentation which enabled us to learn more about the Tribunal's work and functions."
Before departing, Shkelzen distributed to the students a variety of specially-produced handouts and encouraged his young audience to explore for themselves the Tribunal's website and social media presence.