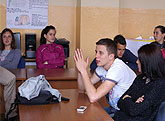 Janja, 23 April 2014
The great importance that ICTY guest lectures have for BiH high school students was confirmed by today's meeting with high school students from Janja, who said the two-hour presentation delivered by Almir Alić was excellent and has changed their view of the Tribunal for the better.
"The presentation was excellent and I learned a lot" said an 18-year old student from Janja. Her one year older colleague acknowledged that "there was so much she didn't know about", but that the "very informative presentation has helped her learn a lot about victims and customs of war". The combination of audio and video information successfully attracted the attention of the students who were actively involved into discussion, offering definitions of important notions related to war crimes and work of judicial institutions in sanctioning persons responsible for serious violations of international humanitarian law.
At the end of the presentation, an 18-year old student made a sincere remark: "I very much like such presentations and believe they should be organised more often because they offer information that could be useful to us, but also an opportunity for us to openly speak our minds".