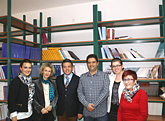 Mostar, 8 October 2013
The close ties between the ICTY and the Law Faculty of the Džemal Bijedić University in Mostar were today strengthened by the donation of a number of books, publications and information materials.
Over the past two years, the university has hosted a number of guest lectures by ICTY experts. The amount of interest in international criminal law this has generated among the students meant there was a growing need to enrich the faculty's library collection with publications that would help future lawyers from Mostar to increase their knowledge in line with contemporary international practice. With that in mind, the ICTY Outreach Programme arranged for this donation of materials to the library.
The acting dean of the university, Anita Duraković, said: "This donation has multiple benefits both for the teaching staff and the students of the Law Faculty. It offers valuable material for future scientific and research work in the field of international criminal law, as well as additional reading material for lectures and practical training. In addition, the students will be able to better familiarise themselves with the work of the ICTY, its achievements and importance for the development of international criminal law."