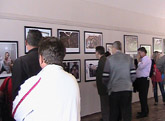 Sarajevo, 22 May 2014
The Tribunal's Outreach Programme recently helped the Union of Former Camp Detainees in Bosnia and Herzegovina (BiH) identify and collect photographs and other relevant documentary material contained in ICTY records, in order for them to be displayed in Brčko, BiH, in the "Memorial Room" of the country's first museum honouring the thousands of men and women from all sides of the country's 1992-1995 war who were victims of detention camps.
The museum, located at the site of the former Luka camp near Brčko, opened to the public on 8 May, a date which also marked the 22nd anniversary of the founding of the camp. It contains various documents, photographs and pieces of clothing belonging to former detainees from Luka as well as many other camps throughout BiH. Among the exhibits are also some of the most compelling photographs used in relevant cases before the Tribunal, including those related to the crimes committed in Brčko, Čelebići, Prijedor, and Vlasenica.
Recognising the importance of Outreach's assistance in this important project, Jasmin Mešković, President of the BiH Union of Former Camp Detainees, expressed his gratitude by saying: "Although we had very little time to complete the project, we have managed to do so in a timely and suitable manner, to a large extent owing to the ICTY, which generously provided a part of the material."
The cooperation between the Outreach Programme and the BiH Union of Former Camp Detainees will continue in future activities and projects, including the planned opening of a similar memorial room in Sarajevo next year.