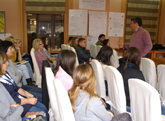 Igman, 7 November 2014
ICTY Registry Liaison Officer in BiH, Almir Alić, held today an introductory presentation about the Tribunal for a group of 40 high school students and their teachers from Serbia, Croatia and Bosnia and Herzegovina participating in the project "Model International Criminal Court Western Balkans" (MICC Web) at Mt Igman, near Sarajevo. Cooperation between the ICTY Outreach programme and the MICC WeB was initiated several months ago. Since then, Outreach has provided the project with an extensive collection of ICTY materials and organised a guest lecture by one of the Tribunal's witnesses. The witness shared his experiences of testifying before the ICTY with the participants of the MICC WeB session held in Belgrade earlier in September.
During Almir's two-hour presentation, the audience was introduced to the Tribunal's mandate, structure and major achievements, and the students asked numerous questions about Tribunal's work and jurisprudence.
Darko Tur, a teacher from Sremska Mitrovica, welcomed the presentation, stating that it had been very informative and had presented the work of the ICTY and MICT in a very simple and comprehensible manner. Professor Tur added that he was impressed with the Outreach presentations organised in high schools in the region, and felt that such presentations would also be useful to high schools students in Serbia.
The students were particularly interested in the part of the presentation dealing with Tribunal's contribution to prosecuting sexual violence and the fact that ICTY was the first international criminal tribunal to enter convictions for rape as a form of torture and for sexual enslavement as crime against humanity. Almir also pointed out to the group that the ICTY was the first international tribunal based in Europe to pass convictions for rape as a crime against humanity.
Milan Strahinić, a high school student from Osijek, said the presentation meant a lot to him, and that he had learned about Tribunal's jurisprudence most the numerous examples used in the presentation. Milan added that the work of the Tribunal is oftendiscussed in the region, but rarely in a professional manner and based on facts.
As part of the session held at Igman, an exhibition featuring childrens' drawings produced at the Outreach programme workshop at the Sarajevo Kid's Festival last year was also organised.