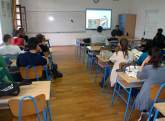 16 May 2012, Zadar
Christopher Fry and Klara Dokmanović from the Zagreb Outreach office today travelled to the coastal town of Zadar to address a group of around 30 students from a local high school.
During the 1991 – 1995 Balkan conflict, the area surrounding Zadar was occupied by Serbian forces, and the town was shelled sporadically for a number of years. A number of nearby towns and villages were also attacked, perhaps most notoriously the village of Škabrnja, where at least 66 civilians were killed.
As always with Croatian students, the first questions focused on former Croatian army generals Ante Gotovina and Mladen Markač, so Christopher and Klara discussed recent events in their ongoing appeal.
As the discussion expanded, one student asked whether the ICTY had contributed to reconciliation between Croats and Serbs, and expressed her opinion that much more needed to be done to consign the war into history and allow young people to live their lives in peace with their Serbian neighbours. Another student said that he was 'glad the Serbs are gone, and hopes they stay where they are and never return'. Then the students began to debate among themselves, with the first student claiming that with such hardened attitudes against Serbs, the new generation would never achieve reconciliation.
After the presentation, Christopher and Klara discussed the event with the students' teacher, who said that the presentation "provided a lot of detail about the court that the students clearly lacked, providing a solid basis for future discussions."