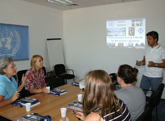 Sarajevo, 31 July 2013

The ICTY Office in Sarajevo this summer continued its cooperation with the University of Denver, (USA) by welcoming a group of students led by Professor Ann Petrila, Director of Field Education. In a two-hour presentation led by Tribunal representatives, the group was introduced to the work and achievements of the court.
Presentations were given by both Registry and Prosecution staff members and allowed the students to learn about the many facets of the Tribunal's work. Outreach programme representative Almir Alić, discussed the work of the Tribunal from the Registry's perspective, while the students learned more about the work of the Office of the Prosecutor from Howard Tucker, Head of the Tribunal's mission in BiH. The audience showed great interest in the interactive presentations and each slide generated a plethora of interesting questions.
The Denver students were eager to hear more about the high school presentation project led by the Tribunal's Outreach Programme in Sarajevo. They were particularly impressed with the Outreach team's efforts during the two rounds of presentations in 35 schools reaching almost 1,000 students across BiH.
Following the presentation, professor Petrila thanked the ICTY representatives for "a truly inspirational presentation and Tribunal's openness in communicating its activities to members of academic community".