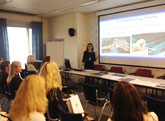 The Hague, 2 October 2014
A group of 12 judges from the Criminal Department of the District Court in Ljubljana, Slovenia visited today the ICTY, as part of their study visit to international legal institutions in The Hague. Group met with the MICT representative Helena Eggleston who introduced them to the ICTY's and MICT's work and achievements. The visiting judges heard about the key developments in the ICTY jurisprudence, current ongoing cases and the legacy of the ICTY, as well as about the mandate and role of the MICT.
Following the presentation the judges enquired about protective measures and support granted to witnesses, about enforcement of sentences, the residual functions of the Mechanism and support of, and cooperation with, the local judiciaries in the former Yugoslavia.
The judges also had the opportunity to follow the final day of the closing arguments in the Karadžić case from the ICTY public courtroom gallery.