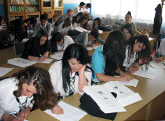 Klina, 26 April 2012
Outreach representative, Shkelzen Dhomi, today traveled to the Luigj Gurakuqi high school in the town of Klina, north-western Kosovo, where 39 students gathered to listen to his presentation on the work of the ICTY.
The students had numerous questions, concerning not only the 1998-1999 Kosovo war but also about other wars in the countries of the former Yugoslavia. Students were also curious to know what would happen after the end of the Tribunal's mandate giving Shkelzen an opportunity to explain the functions of the Residual Mechanism.
In his evaluation of the event, one student thanked Shkelzen and expressed his hope that "future generations" will also learn about "the crimes committed in Kosovo".