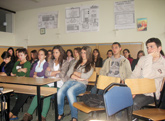 Gjakova, 17 May 2012
In a very friendly atmosphere, Outreach representative Shkelzen Dhomi was welcomed to the high school in the western Kosovar town of Gjakova, where he presented the work and achievements of the Tribunal to around 40 students.
Gjakova was the scene of heavy fighting between the Kosovo Liberation Army (KLA) and Serbian forces during the 1998 – 1999 conflict, and many of the students appeared greatly touched by the videos they were shown of witness testimony relating to local events.
The students naturally had questions about the re-trial of KLA members Ramush Haradinaj, Idriz Balaj and Lahi Brahimaj, and Shkelzen explained the Appeal Chamber's reasons for ordering a new trial.
Once the allotted time was up, the students proclaimed themselves happy with the event, saying that they had learned a great deal about the Tribunal, and suggesting that all Kosovar high school students ought to have the chance to attend such a presentation.