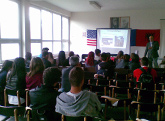 Kamenica/Kosovska Kamenica, 12 April 2012
Around 20 students from the high school in the Kosovar town of Kamenica/Kosovska Kamenica today gathered to listen to Pristina Field Office representative Shkelzen Dhomi talk about the work and achievements of the Tribunal.
Following the presentation, the students wanted to hear about the cases adjudicated by the ICTY relating to Kosovo, and in particular about that of former Kosovo Liberation Army (KLA) members Ramush Haradinaj, Idriz Balaj and Lahi Brahimaj, currently being re-tried at the Tribunal. Shkelzen explained to the students the reasons the Appeals Chamber had felt compelled to take the step of ordering another trial be held on certain counts in the indictment against the three men.
As the students headed to their next lesson, they were provided with various handouts and encouraged to consult the Tribunal's website and social media pages.
On his evaluation sheet, one student wrote: "We learned a lot about the Tribunal today, almost all of the information was new to us. It was interesting for me to hear about how the Tribunal deals with its cases, especially those that focus on Kosovo."