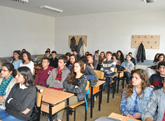 Pristina, 17 October 2013
Staff of the Youth Initiative for Human Rights Kosovo (YIHR KS), in partnership with the ICTY Outreach Programme, today met with around 50 final year high school students from Pristina's Xhevdet Doda Gymasium to discuss the work and achievements of the Tribunal.
The YIHR KS staff gave the students a brief overview of the ICTY, including its establishment, the types of crimes it deals with, and the number of indictments filed and guilty/not guilty verdicts. Following this they discussed some of the cases specifically relating to Kosovo, for example those of Slobodan Milošević, Šainović et al., and Haradinaj et al. The students were then shown video clips of various witnesses testifying before the Tribunal.
At the end of the presentation, the pupils were invited to ask questions. One asked about why a partial retrial had been ordered in the case of Haradinaj et al., and the YIHR KS staff used this as context to talk about the importance of witness protection. Another asked why the European Rule of Law Mission in Kosovo (EULEX) was necessary, given the existence of the Tribunal, and the presenters explained that the ICTY was only ever intended to try mid- to high-ranking perpetrators, meaning there were many more cases that needed to come to court elsewhere.
The evaluation forms filled in by the students were full of positive comments, with a number suggesting that they wished the event could have been longer, since the issues raised were of such great importance.
 

The school's principal expressed his gratitude to YIHR KS and the Tribunal, and invited them to return for similar events in the future.