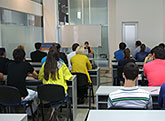 Podgorica, 13 September 2012
The ICTY's Ljiljana Hellman today met with around 45 law students from the Mediterranean University in Podgorica, Montenegro, to talk to them about international criminal law as practiced before the Tribunal.
The students were eager to engage with Ljiljana, while admitting that they knew very little about the Tribunal or its work. One student explained that the only trial of which many of them were aware was that of Serbian Radical Party leader Vojislav Šešelj. It was therefore unsurprising when the first question to be asked by a student related to the length of Šešelj's trial: "Is there a limit to how long someone can spend in the Detention Unit without a judgement being made against them?"
Ljiljana talked at length about the rules of detention, while also adding that the Tribunal's Rules of Procedure and Evidence allow for the possibility for accused persons to be provisionally released during periods when their trial is not sitting. Šešelj has made no recent requests for provisional release.
Many questions were related to the protection of witnesses, ranging from what kind of protection the Tribunal is able to offer and how such measures are decided upon, to what happens in cases where a protected witness's identity is made public. Here Ljiljana used the example of the contempt proceedings initiated against Šešelj to provide concrete information about what the Tribunal can and does do to protect witnesses and punish those who seek to circumvent that protection.