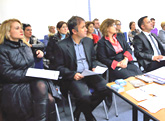 The Hague, 20 November 2013
A visit to the ICTY filled the third day of a 10-day Asser Institute "Administration of Justice" trip to the Netherlands for legal professionals from the Balkans and Turkey.
The first item on the agenda for the group of judges, prosecutors and other legal professionals was attending a hearing in the trial of Radovan Karadžić. The group was fascinated by the scope and complexity of ICTY cases, and was amazed to hear that Karadžić has already called 187 witnesses and intends to call even more.
The visiting lawyers next heard a presentation about the history, work, and legacy of the ICTY, during which they viewed an excerpt from the moving witness testimony of Habiba Hadžić as she pleaded with the accused to identify the mass grave in which her two sons had been buried. They then attended two further presentations, one each from the Registry and the Office of the Prosecutor of the Mechanism for International Criminal Tribunals (MICT).
The visitors had numerous questions about technical aspects of ICTY cases and the role of the newly created MICT, which will take over many of the responsibilities of the ICTY in the years to come.