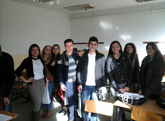 Rogovo/Rogovë, 18 November 2014
ICTY representative Astrit Lleshi travelled today to the village Rogovo/Rogovë, Kosovo, to meet with the students from the 'Asllan Berisha' high school. Astrit introduced 29 students to the work and achievements of the Tribunal and talked about the ICTY's role in bringing to justice those responsible for serious violations of international humanitarian law committed in the former Yugoslavia during the 1990s.
The students also learnt about the cases relating to Kosovo before the Tribunal, the way in which they have contributed to the establishment of facts as well as the wider influence of the ICTY on the development of the rule of law in the region.
The one-hour multi-media presentation generated active participation from the students who asked questions both during and after the presentation. The young students were interested in learning more about Kosovo Albanians indicted by the Tribunal and the witness protection programme.
At the close of the event, students were provided with ICTY information materials and encouraged to visit the Tribunal's website and social media sites.