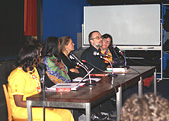 Amsterdam, 10. March 2013.

Outreach representative Petar Finci today participated in a symposium - 'Rape: Sexual violence in the age of genocide' - hosted by the Amsterdam-based NIOD Institute for War, Holocaust and Genocide Studies. The symposium used films, lectures and discussions to examine various instances of sexual violence during war and genocide, including World War II, the Congo war, the Rwandan genocide and the wars in the former Yugoslavia.
Petar gave a short introduction outlining the ICTY's achievements in the prosecution of crimes of sexual violence as a prelude to a screening of the film I Came to Testify. This documentary, produced by America's Public Broadcast Service, deals with the ICTY trial of Kunarac et al, which remains to this day the largest ever international criminal trial dealing exclusively with charges of sexual violence.
After the screening, Petar gave a summary of the cases that followed Kunarac et al, concentrating on those which included charges of sexual violence as part of a campaign of genocide, and then took questions from the audience.
Martine van den Heuvel, one of the organisers of the symposium, said that the event had been "a great success … We learned a lot and gained a much broader perspective on the subject".