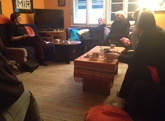 Belgrade, 14 May 2014
Registry Liaison Officer Morgiana Brading attended a screening of ICTY Outreach's latest documentary "Through their Eyes: Witnesses to Justice" at the NGO Women in Black NGO office in Belgrade. Ten activists from Serbia and Bosnia and Herzegovina of the Women in Black human rights organization were present at the screening. Their main interest included how the witnesses who were featured in the movie were selected, praising the authors for choosing such a balanced group representing all sides in the conflict.
"What I found amazing was the fact that none of the people in the documentary expressed any hatred for the perpetrators. If they can be so dignified then we should all be able to forgive and move on", said one of the audience members.
Several activists raised the issue of the ICTY's role in the reconciliation process and questioned if this was indeed a role suitable for any court. Morgiana explained that although the primary focus of the ICTY are the trials and establishment of individual criminal responsibility for the committed crimes, it is inevitable that the Tribunal's work and legacy will have an impact on the reconciliation process in the region. She further explained that facts established during the trials are part of the historical record of the conflicts, and could help eradicate revisionism and provide common ground for the people in the region.